Regular price
$99.00 CAD
Sale price
$99.00 CAD
Unit price
per
Sale
Sold out
Excited to have our Heart Self-Love in the Black Sweatshirt now!
Everyone has loved the Heart design shirt but we have received so many requests for it to be available in Black and in a sweater.....so now it is!
The second design in the Pretty Project, the Love T-shirt, is about just that, love. More specifically, loving who you are; all the parts of you that make you fabulous and different and exactly who you are: brave, smart, kind, fabulous, funny… the list goes on and on! All about the Self Love!!
We are more than just PRETTY!!
We are:
PRETTY SMART
PRETTY STRONG
PRETTY BRAVE
&
PRETTY KIND
PRETTY TALENTED
PRETTY AMAZING
PRETTY FABULOUS
PRETTY EVERYTHING!!!
The list can go on and on and on!!!

By wearing this shirt we are taking back the word Pretty that is so often what women are reduced to. We are so much more than our looks. This project is meant to not only empower the women that wear these shirts but also to anyone who reads them.

We also have partial proceeds going back into the community to help build women up. We are partnering with the Winnipeg Alpha House. They are an amazing organization that is helping women and their children who are leaving abusive relationships find safe housing.
Please read here to find out more about their organization:
www.alphahouseproject.ca
SIZES:

Unisex sizes XS-2X  
*Size chart is garment measurements not body measurements. 
| | | |
| --- | --- | --- |
| Size | Bust | Back Length |
| XS | 35" | 25" |
| S | 38" | 26" |
| M | 41" | 27" |
| L | 44" | 28" |
| XL | 48" | 29" |
| 2X | 52" | 31" |
Share
Bamboo Fabric

Softest T-Shirts and Sweatshirts ever!

T-Shirts: Preium soft lightweight fabric, Bamboo  -70% BAMBOO, 30% Organic Cotton

Sweatshirts: Preium soft fleece fabric, Bamboo Knit Jersey -70% BAMBOO, 30% Organic Cotton

**Fabric is MADE IN CANADA in one of Canada's last fabric mills left, just outside of Toronto.* 
MADE IN CANADA

All oue products are Made in Canada. For more info click here
Care

*Pre-washed and Pre-Shrunk (please follow our care instructions to not shrink)
Machine wash cold in gentle cycle, no bleach, tumble dry low or hang to dry for best results.

*A great sustianable trick to refresh clothing is to put it in a bag in your freezer, rather washing.

*If anything gets creased, steam is always best and using the trick to hang up in the washroom when you have a steamy shower always works, especially if traveling!
Shipping & Pickups

Click HERE for details on our Local Winnipeg Pickup at our Studio. Or how We Pay the SHIPPING across Canada on orders over $150. Plus see our Exchange Policy and all other important information.
View full details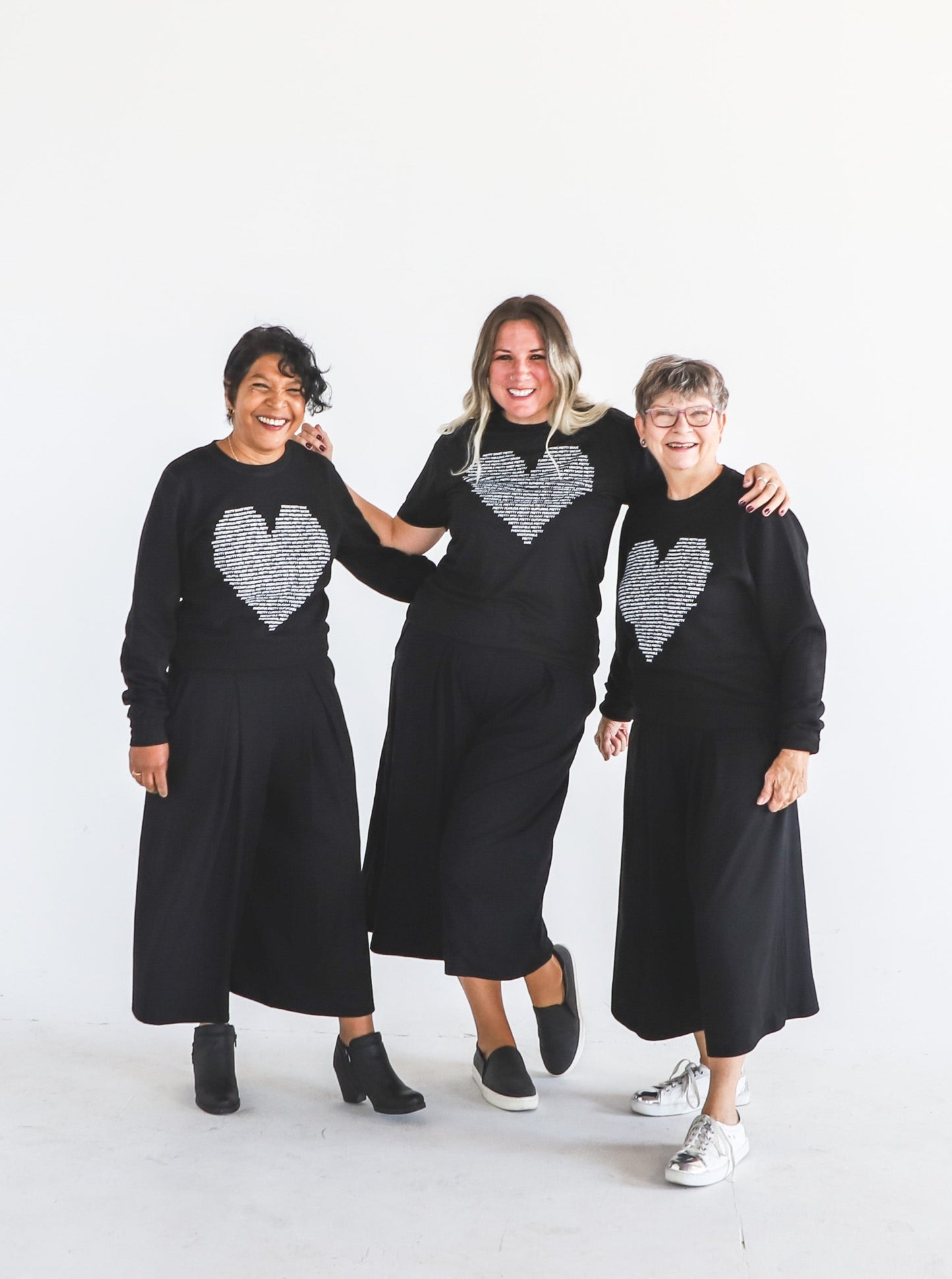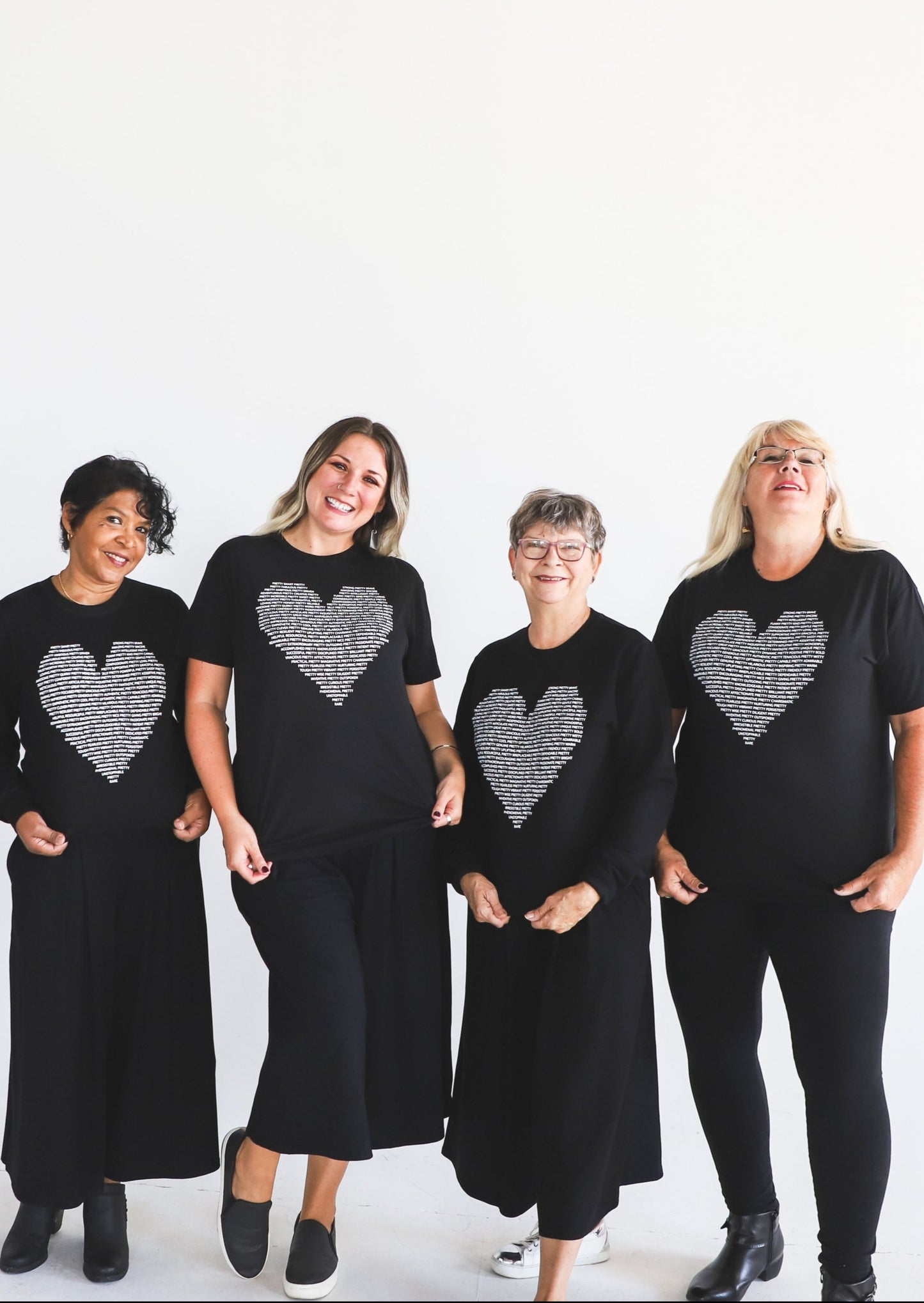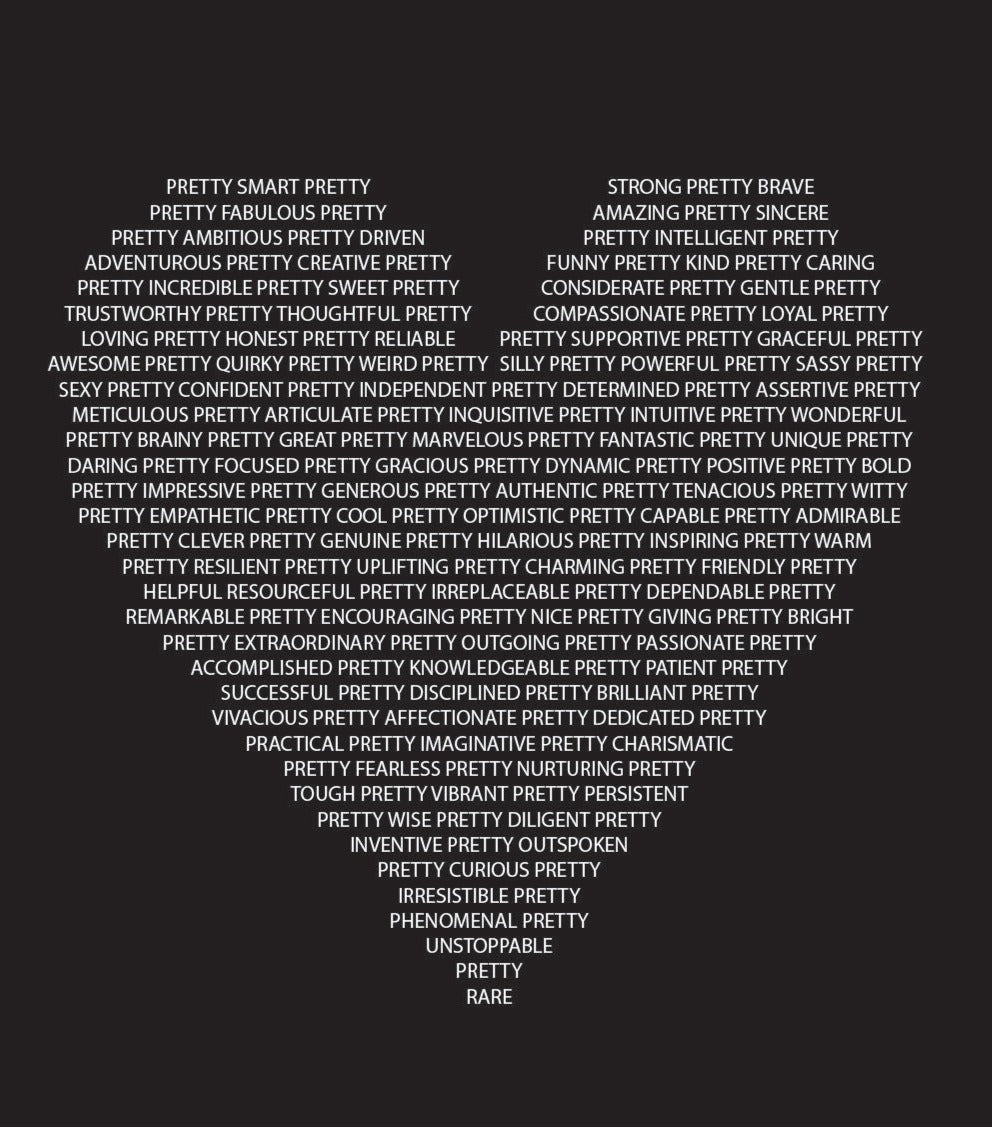 Soft and cozy
Realized I didn't have the large heart design in the sweatshirt. I have a few of these in a couple of different sizes. Love them all! So soft and cozy.
Good quality, good fit, complements a curvy figure
I'm not generally a wearer of sweatshirts, but if I do I want one that's not quite run-of-the-mill and sustainably, ethically and Canadian made. This not only ticks those boxes, it is locally made (which is also important to me), but good quality, warm and a decent price.
I'm 5'1" and pretty curvy, with a high waist. Any shirt, sweater, or coat that stops at the waist or hip bones does me zero favours. I'm currently a size 12, 34DDD, hourglass figure. I purchased the Small and was worried it might be too short. However, I don't know that I could have found a better fit. I can have the bottom pulled down to the crease of my hips and still have a little bit of bagging, for lack of a better word, through the mid-section. This area is just loose enough to hide my pandemic induced muffintop while still showing that I have a waist. It's snug across the chest, but not to the point of straining or causing material work it's way up above my bust. AND the graphic sits where it should. The other petite ladies will get this - adult t-shirts and sweat shirts with graphics often start midway down, or at the bottom, of our bust. It looks ridiculous, if you have a larger chest. (The graphic will fold over or point down.) I chose this shirt because, of the Pretty Project items, this one looked like it wouldn't have this problem. I'm happy to be right.
I took a star off because although I washed in warm, not hot water, and hung it to dry, it shrank a bit. For the other petite ladies, as this sweatshirt isn't designed for petites the arms are a little long.
Hi Allison,
So happy you like this Pretty Project Sweatshirt! And happy to hear that it is a pretty good fit for someone petite. We love how soft and cozy it is too! And yes we recommend all our pieces are to be washed in cold water and hung to dry as warm water can shrink pieces a bit. We are so happy to hear that you are loving it though :)
Love These!
I love the bamboo and the fit! I have this heart design in XL and the original design in a XS and I love both! So soft the XL is great for cozy days and the XS is perfect for running around! Each size fits me different but I love both!
Pretty perfect
Bought these sweatshirts for myself and my daughters for Valentine's Day. Love the message as each and every phrase describes them perfectly
My second skin
I wear this sweatshirt so much!
It is cozy, comfortable and empowering. My all time fave!